Question: What do you do when a whole segment of society is so pissed off that the only way they feel they can express themselves is to smash sh*t? Answer: Throw them in jail! Every last one of those motherf*ckers! Don't stop until every poor young man who had the balls to come out of his house is behind bars! Jesus. Absolutely out of control. Yes, I'm talking about the recent rioting/looting in England, more specifically the aftermath. 3,000 arrests and climbing — the final number is expected to be closer to 4,000. Harsh sentences, in many cases years long, are being handed out for everything from stealing a bag of chips to posting so-called riot-inciting updates on Facebook. Four years for posting on Facebook? You can't be serious, I can hear you saying…but serious they are. Welcome to the police state. There's a mass witch-hunt going on, and it's disgusting.
In fact, the whole post-rioting period has been far more disturbing than the rioting itself. (And yes, if you keep reading long enough, I'll actually defend those 'criminal scum', as they've been portrayed in the media.) It seems that everywhere I turn, a shortsighted attitude has taken hold, causing people to spew detestable comments from a bottomless cesspool of ignorance.
Why is everyone attacking these kids? Aside from a gut reaction to seeing violence and property being destroyed, there's a lack of social awareness and empathy. The scenario is a spectacle, and the nature of the whole circus is cyclical. A police killing sparks riots, looting. This goes on for awhile, media defends the fascist government and the police thugs, people are fooled. The aftermath consists of amnesia, some residual finger-pointing, and these losers trying to rat people out on social media sites. Seriously, f*ck you. There's a video I saw that shows a mother talking about how she would rat on her son and have him arrested if he was involved. Really?
Much of this hateful attitude has to do with mainstream journalism, which, as we very well know, sides with establishment. Scattered between the commercials is a massive disinformation campaign, or at least a distraction campaign, and the scary part is that it's working. The media has turned the riots into a black and white situation (maybe not racially, but in every other conceivable way), in which the rioters are contemptuous, immoral, criminal animals, while everyone else are decent, law-abiding citizens and innocent victims. That kind of campaign is divisive and caustic, and not to be believed. A recent interview by the BBC with Darcus Howe is proof of their strategy, more or less. In it an imbecilic reporter lets her bias overcome her, and treats a well-respected journalist and activist like a thug. It's really remarkable, and I've linked to the video at the end of the article. It's actually the top Youtube hit for 'London Riots'.
Youtube, Twitter, blogs, independent news sources — we live in a bizarre, interconnected age. Yet, despite this, people's attitudes still seem to be shaped by mainstream thinking, and we seem more divided than ever sometimes. The overall attitude seems to be one of disgust, not at the cause of the situation, but at the rioters and looters. Such comments as 'the police are absolutely justified in beating these thugs' don't exactly inspire hope. How brainwashed have we become to think that police beating teenagers is acceptable? I recently watched footage of police assaulting a trio of teens on bikes, unnecessarily, severely. I don't care if they stole an entire lot of cars — there's no excuse to kick their faces in until their noses protrude from the wrong side of their heads. If your solution to a massive socioeconomic problem is for the police to beat youth, then you've been absolutely duped.
And a massive socioeconomic problem it is. In 2010, the government drastically reduced public spending. Working class communities were hit the hardest. In addition to a huge increase in unemployment, tuition tripled and the Education Maintenance Allowance program was scrapped. In Tottenham (where everything started) 75% of youth funding was cut in the lead-up to the riots. The elite claim the cuts are necessary to hack the debt down. Yet governments bail out banks — who were the cause of the economic crisis — to the tune of billions of dollars. You can't tell me what happened wasn't political. The reasons behind the violence are social disadvantages: poverty, lack of employment, lack of respect in the form of constant stops-and-searches, abuse of authority from police in the form of beatings and shootings, racial tension, and the notorious austerity program. Yeah, the youth are pissed. Can you blame them?
Even if the majority were right, and these people were just "thieves" and "hooligans", there is still a cause for every problem. Do they think all those people, in cities across the country, just woke up and said let's be really bloody naughty today? Again, their social stratum is upset for a reason. And hell, you could even argue that looting is the only way available to them to take a bit of good old economic equality.
Naomi Klein, whose book 'The Shock Doctrine' pointed out how power takes advantage of these situations to clamp down ever more heavily, tweeted something perfect the other day: "1. Change rules so kids r advertised to in schools + have malls instead of public spaces. 2. Express horror at their consumerism." She may have been on to something, too; my generation has been force fed advertisements and consumer culture from birth. In order to thrive, capitalism must generate an all-consuming drive for material goods. Is it any surprise that the poor, who have no way of getting these goods, turn to stealing them? How can we blame the poor for grabbing some shoes and a TV after their social programs are cut, unemployment has soared, and everyone else is watching the riots from big screen TVs, making Youtube videos on brand new computers about how the looters are all disgusting examples of humans.
Talk about getting the short end of the stick. You're sh*t on, so you get mad and get sh*t on worse. And the abuse is happening all the time; in this case the problem festered until it blew up. Communication is so important; but instead of having a progressive dialogue about things, the government, police, media, and many people refuse to listen to the disaffected. The violence is just the extreme representation of the outrage. The situation had been growing steadily worse, recent protests in various forms are proof of that. Check out the Bars For Change video, the final link I posted. It was put together well before Mark Duggan was shot, but what do we see on it? Jodi McIntyre and an expert discussing how the IPCC (the body who should ensure police don't act like rabid demons) is not only useless, but suspect, and how the police answer to no one. There is a whole movement crying out for some justice and equality. Attacks by the police are commonplace, most people know it.
Think about how organic everything was: Duggan gets shot on 4 August, two days later his relatives and local residents marched to the Tottenham Police Station demanding information on the shooting. Hours later they are still waiting and set fire to cop cars. Contagion spreads, and spreads, from many areas of London to other cities in England. And now the aftermath, the stage before collective amnesia sets in. Thousands of working class youths are being locked up in a massive backlash which includes media vilification. The punishment has begun; instead of providing adequate social programs and futures for youth in the form of education, training, and jobs, they are imprisoning them and denying bail. Like I said, welcome to the police state.
The response from above has been by turns malevolent and farcical. David Cameron appears on TV talking about rights and responsibilities; the insinuation is that the rioters are only concerned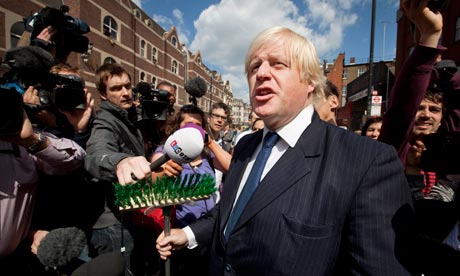 with their rights, not their responsibilities to be law-abiding citizens. Well, what about the responsibilities of the government? His response has been appallingly insensitive and obtuse; saying this is all because of criminality and moral decline, in the process essentially insulting a whole class of people. London Mayor Boris Johnson showing up for a photo op with a broom to clean up the scene….laughable. I know it's a metaphor, but when's the last time that guy swept anything, or did any manual labour? Dinkass. The issue, thanks to major news outlets' deafening distortions, and people falling hook, line and sinker for the sensationalist strategy; the issue, now that the root of the problem has been ground up and swept tidily under the rug, has become polarizing — and the politicians are taking full advantage. Their zero-tolerance policy, hiring some american police chief asshole, an expert in riot crowd control…no wonder people are so pissed off — they're living under tyrants.
Cameron can talk all he wants about 'criminality', but where do youth turn when there are such problems with education and services and unemployment in youth? Criminality, baby. Speaking of criminals, what are you again when you kill someone? Maybe the most f*cked up thing about the whole occurrence is that, even after thousands of people are arrested and $326 million of damage is repaired, no one thinks to say, you know, maybe cops shouldn't shoot people for no reason.
The pity about the whole situation is that little progress is made. Consumer goods are stolen, cars are burned, people are jailed. Though it is an expression of anger and a form of protest, dubious or not, there is a lack of organization, of solidarity. In fact, that's what set off this rant: all the ignorant comments people are making about the rioters. There needs to be unity — people in England and elsewhere need to realize that they hold common ground, that the vast majority of them are not rich and very much affected by the austerity measures, that they're being f*cked over by the elite, etc. If the population at large was unified in demanding economic justice, justice for police brutality, justice for the Mark Duggans and the Ricky Bishops, riots and looting wouldn't need to happen. So let's have it. Let's have some empathy,  some unity. Let's have a heartfelt ending, at least to the article. How about the famous and fitting words by Eugene Debs:
'While there is a lower class I am in it; while there is a criminal element I am of it; while there is a soul in prison, I am not free.'
KM.08.17.2011
Video links (These are well worth watching!):
1. Darcus Howe on BBC. Remarkable.
2.Eleven minute mini-documentary on activism, bad-ass rap. Too appropriate.